Check out our Free FMLA
Eligibility Advisor Here!

Maryland FMLA
---
Public-Sector Employers
State employers are required to allow unpaid family leave for state employees in the event that care is needed for:
A newly born child or placement of adopted child.
Foster child recently placed with employee.
A seriously ill child, spouse, parent, or legal dependent of employee.
A school-aged child under, the age of 14, during school vacation periods.
Employee Eligibility
During family leave, state payment of benefits, including health care, is suspended.
Benefits may be continued if employee pays the full cost, including the share ordinarily paid by the state.
Employees may not be required to exhaust his or her accrued leave before taking family leave.
After termination of the leave period, an employee must be reinstated to his or her original position.
Substitution of Paid Leave
Accrued sick leave may be substituted for unpaid family leave for the following reasons:
An employee's own illness or disability.
Death, illness or disability in an employee's immediate family.
The birth of an employee's child or adoption of a child by employee.
An employee's medical appointment or the medical appointment for an immediate family member.
Immediate family is defined as an employee's spouse, children, parents, stepparents, foster parents, siblings, grandparents or grandchildren.
Written Certification Required
If five or more consecutive days of sick leave are used to care for a member of his or her immediate family, an employee must submit documentation from the healthcare provider to verify the period of illness.
Birth or Adoption of a Child
An employee may use up to 30 days of accrued sick leave for the period immediately following:
The birth of employee's child.
The adoption of a child.
If both parents are an employee of the state, together they may use a total of 40 days of sick leave for the afore mentioned reasons.
Certification may be required for taking such leave.
Disaster Service Leave
State employees who are certified with the American Red Cross may take up to 15 days of paid leave in a 12-month period when called to a level II disaster as designated by the National Office of the American Red Cross. During disaster leave, an employee is deemed not to be a state employee for the purpose of worker's compensation.
Medical Donation Leave
For medical donations, state employees may take the following leave during any 12-month period:
Up to seven days for bone marrow donation.
Up to 30 days for organ donation.
Approval of the appointing authority is necessary before using medical donation leave.
Private-Sector Employers
Family Leave
Employees that have more than 15 or more employees may use accrued paid leave, that has been earned, to care for an ill child, spouse or parent.
Maryland Flexible Leave Act (MFLA) neither extends nor limits the 12 weeks of unpaid leave an employee is entitled to under FMLA.
Under MFLA, "child" is defined as adopted, biological, foster, step or legal ward under the age of 18, or over the age of 18 and incapable of self-care.
Under MFLA, "parent" is defined as adoptive, biological, foster, step, legal guardian or standing in loco parentis.
Under MFLA, "leave with pay" is defined as paid time "earned and available" under an employer's standards or grant to an employee.
Under MFLA, insurance provided under Employee Retirement Income Security Act plan, workers and unemployment compensation benefits; and disability benefits are excluded from "leave with pay."
Only those employees who are primarily employed in the state are covered.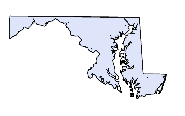 Check out our Free FMLA
Eligibility Advisor Here!