Check out our Free FMLA
Eligibility Advisor Here!

Nebraska FMLA
---
All Employers:
Birth/Adoption of a Child
All employers in Nebraska are required to permit a leave of absence to all employees undergoing the birth or adoption of a child unless the child undergoing adoption is:
Over 8 years of age.
Over 18 years of age with special needs.
A stepchild adopted by a stepparent.
A foster child adopted by a foster parent.
Family Military Leave
Employees who are the spouse or parent of a person called to military service for at least 179 days are eligible for unpaid leave for:
15 days if the employer has between 15 and 30 employees.
30 days if the employer has more than 50 employees.
Employees must give a notice of their leave 14 days in advance if they are missing five or more consecutive work days, and employers may require certification from proper military authority to verify an employee's eligibility.
Public-Sector Employers:
Leave laws in Nebraska are identical to those seen in the federal FMLA concerning state employees, except employees can take 12 weeks of unpaid leave when the illness, disability or injury of an immediate family member requires the employee's presence ("immediate family member" is defined as the employee's spouse, children or parents). Employees may also use paid leave if they wish during this type of leave.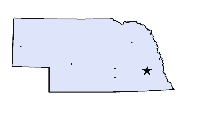 Check out our Free FMLA
Eligibility Advisor Here!